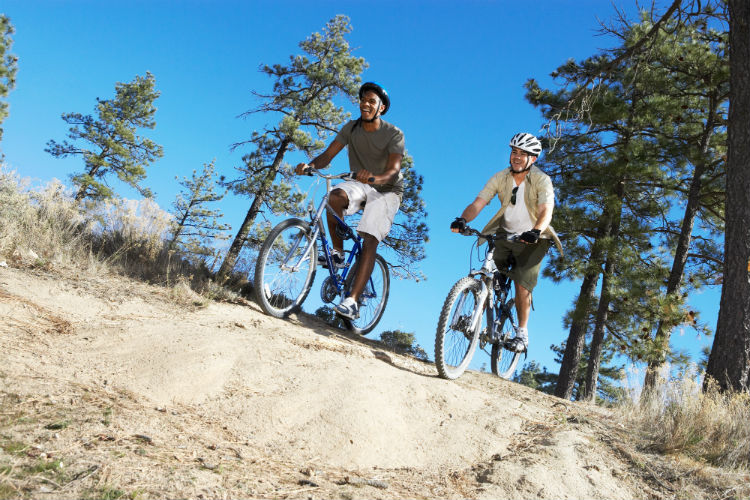 San Diego's sunny days are just beckoning you to head outside. Maybe you're bored of the same old routine. Whether you are a regular at a gym searching for a change of pace or you're seeking a fun way to get motivated to begin pursuing a fitter lifestyle, these outside the box ideas promise something fun, challenging and different!
Fun Fitness Idea #1: Take the Stairs
Grab some friends and hit some of the area's more challenging staircases. The San Diego Convention Center has a hugely popular 100-step run of stairs that will have you feeling the burn like Rocky training in Philly. (P.S., we checked— that staircase was a mere 72 steps!)
Another great spot for stair runs can be found in La Mesa at the corner of Windsor and Canterbury. This tucked away "secret staircase" has a total of 245 steps!
Fun Fitness Idea #2: Get in on Some Dodgeball Fun
Was your favorite day in elementary school gym class the day the coach dragged out the big bag of red balls and had them lined up in the middle of the gym, beckoning you to clobber that show-off kid from down the hall? You can revisit your elementary gym class roots and join a fun dodgeball league, like this one in Pacific Beach. Don't forget the 5 D's of dodgeball, made famous in the movie of the same name: "Dodge, duck, dip, dive, and dodge!"
Fun Fitness Idea #3: Climb a Mountain
Grab your dog and a few friends and hit the trail up Cowles Mountain. It's a 3-mile trek with spectacular views from the top, where you'll look out from a height of over 1,590 feet. Pack a healthy lunch and plenty of water for yourself and furry friends and make a day of it.
Not feeling the aggressive uphill 3 miles? Or maybe it seems like all of San Diego had the same idea to hit Cowles this weekend? Head to South Fortuna for a trip up the "thousand stairs" – which is actually not quite a thousand, but more like a couple hundred rock and log steps up to the top. Another view from the top that's well worth the effort!
Fun Fitness Idea #4: Take to the Skies (well, at least SkyZone)
SkyZone, an indoor trampoline park in Chula Vista is lots of fun for kids and adults alike. Giant trampolines that go up the walls let you bounce and flip (if you dare!) to your heart's content, slam dunk like LeBron (with some help of a trampoline run), and even run up a wall like a Ninja Warrior.
Even better, try Glo jump, where the regular lights go down and the black lights and music turn up for a totally fun, totally different trampoline park experience.
Fun Fitness Idea #5: Ride the 101
Hop on your bike and pedal your way down the breathtakingly beautiful scenic Highway 101. Take a ride on the Pacific Surfliner train up to Oceanside for a trip through Carlsbad, Encinitas, and back to San Diego. It's about a 20-mile ride from Oceanside back to San Diego, so depending on your fitness level, you might want to plan some stops along the way.
This is just a small sampling of things you can do to up your fit game in Southern California. If you are looking for a more personal approach, connect with us at Elite Training San Diego and schedule a free workout!