Sports training in San Diego is simply fitness and performance training that is specifically geared toward enhancing an athlete's performance. The goal of sports training differs from personal training. Personal training is aimed to improve overall fitness, whereas sports training is designed to enhance your performance in competition for your particular sport.
In today's increasingly competitive sports environment, participating in sports-specific training can enhance your physical conditioning, keep you engaged in the off season, and give you an edge in the game. We offer professional, affordable sports training in San Diego to help you get in the best shape of your career!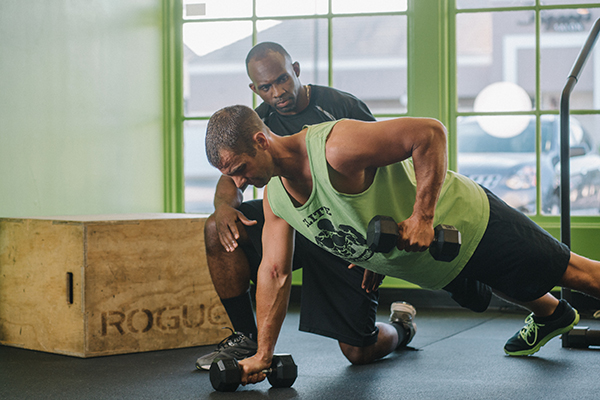 What's Involved in Sports Training?
It doesn't matter if you're playing baseball, basketball, soccer, or football — to be ready for the season and stay on top of your game, you need quality sports training. All athletes know that it's important to diversify their training to see the best results, and our sports performance training in San Diego reflects that.
When you come to Elite Training San Diego, we'll develop an individualized training program that is catered toward your goals. Our program involves working on strength, sports nutrition, power, speed, endurance, flexibility, agility, and rehabilitation.
Benefits of Sports Training
Whether you're preparing for a specific sport or trying to stay fit in the off season, our Elite Trainers can get you in top shape. Our quality strength and conditioning program is designed to improve your health, performance, and skill.
The following benefits you can expect from our program explain why we're the sports training that San Diego athletes choose:
Train Smarter
Get Stronger
Stay in Shape in the Off Season
Increase Explosive Power
Strength Endurance
Sport Nutrition
Why Choose Elite Training San Diego?
There are plenty of places to go for performance training in San Diego, but none like us. We're a private gym, focused on giving individualized attention in one-on-one or small group settings. We also have a holistic approach when tackling our clients' lifestyle and health goals — to yield the best outcomes. That's why you can count on us for quality sports nutrition in San Diego, as well as personal training.
Our business is locally owned and operated, and we're committed to providing exceptional personal training in the greater San Diego area. Best of all, we're backed by a team of highly specialized, certified trainers who are fully dedicated to helping our clients achieve their goals. Reach out to us anytime to learn more about our affordable and even no-contract options.
Schedule your first session for FREE!
It's Not Just Personal Training, It's A Lifestyle Change!