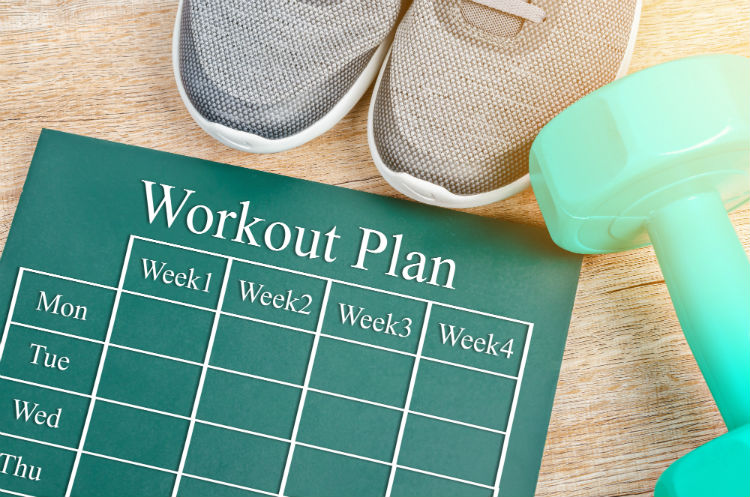 If you're like millions of Americans, you probably made New Year's resolutions to start exercising more and to eat healthier. Maybe you ordered equipment that you can use at home, but rather than use it to achieve your fitness goals, you've let it sit in a closet collecting dust. Maybe you've started an exercise routine by yourself, but want guidance, or maybe you've put off starting an exercise program because you've been busy or overwhelmed and didn't know how or where to begin.
You're not alone. If you woke up this morning, looked in the mirror and said, "I want to change my life," that's a great start! Maybe you're considering enlisting the support of a personal trainer, but aren't sure whether that's the right choice for you, or you have not found a trainer yet.
We'd like to share with you some of the benefits of working with a personal trainer in order to help you find one who will help you meet your fitness goals.
Personal trainers are educated about exercise.
We know that walking into a gym and seeing the variety of machines and other equipment can be overwhelming: Where do you start? How do you use equipment safely and effectively? Personal trainers eliminate this guesswork. They are trained to teach you how to exercise.
This means that they are familiar with all of the equipment in the gym and how to use it correctly and effectively. They can walk you through exercises to ensure that you have the proper form so that you aren't going to injure yourself.
Everybody is different, and so everybody is different. Personal trainers will be able to help you address your specific goals taking into account your specific needs. If you have an old leg injury, for example, they can show you how to effectively and safely exercise those muscles as part of your workout.
If you have a disability or other condition, personal trainers can take your particular circumstances into account as they show you how to use equipment and design a workout routine. They will help you get the most out of your workouts by ensuring that you don't waste your time. No Wasted Time = Maximum Results. And, personal trainers can work with you to schedule appointments that fit your schedule.
Personal trainers can help you work toward your goals.
While most of us would love to hit the gym once or twice and see immediate results, we also know that that's not going to happen. Personal trainers can help you set realistic goals and keep you accountable, on-task, and support you as you work toward them. Personal trainers can also help you work on event-specific goals, like training for a 5K or a marathon. They are also going to be able to tell you which exercises you need to do in order to achieve your fitness goals.
A personal trainer can also work out with you. Some people appreciate the company, and having someone work out with you can add a fun element of competitiveness to your typical routine.
Perhaps you have an injury and your doctor has advised you to exercise as part of your healing process. As we mentioned, personal trainers can teach you how to use equipment safely to avoid injury and to work out while being mindful of old injuries, disabilities, and other conditions. They can also assist you in exercising to help facilitate your current recovery.
Personal trainers can help you get out of a routine-rut.
Maybe you've been exercising on your own but haven't seen results. A personal trainer can look at your routine and help you figure out what changes you should make in order to start seeing the results that you want. Maybe you need to add additional exercises; maybe you need to work a bit harder (most people don't work as hard as they could), and a personal trainer can provide that extra "push," as they provide that motivation and accountability.
Perhaps you're looking for new challenges. Maybe your current routine is getting a bit boring. A personal trainer can offer suggestions to switch things up and make your workout more interesting. If you're working toward weight-loss, for example, while most people do cardio exercises, strength training is also important, so your personal trainer may suggest that you lift weights (and she can show you how to do this safely and effectively, too). There might also be new equipment at the gym that you haven't seen yet (or are intimidated by). Your personal trainer can introduce it into your routine.
The staff of Elite Training San Diego would love to help you work toward your fitness goals. Please call us (619-478-0194) to schedule a free workout!